Touhou Bougetsushou
Östliches Zitat des Flüchtigen Mondes ~ Cage in Lunatic Runagate
[Coming Soon / 1 Volume]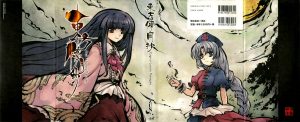 Yukari Yakumos Zweiter Lunarer Krieg ist eine verworrene Intrige, in der ein jeder gewollt oder auch ungewollt seinen Teil spielt, ob Mensch, Mondbewohner oder Youkai. Dies sind die acht Geschichten der verschiedenen Mitspieler, die damit zu tun hatten.
---
Touhou Bunka Shinpou
Eastern Word's End Truth Report ~ Alternative Facts in Eastern Utopia.
[Complete / 1 Volume / English only]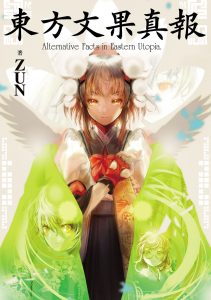 Following on the heels of Bohemian Archive in Japanese Red, Alternative Facts in Eastern Utopia is presented as Aya Shameimaru's attempt to create a tabloid magazine in the style of "Shuukan Bunshun", a notorious high-circulation tabloid published weekly in Japan. This art book, featuring articles, illustrations, interviews, comics etc., gives us a glimpse into the first issue of the "Bunbunharu Weekly", which due to various circumstances had to be cancelled right before it's release.
---
Übersetzung begonnen
Bohemian Archive in Japanese Red
Perfect Memento in Strict Sense
Symposium of Post-mysticism
Curiosities of Lotus Asia
---
Fortschritt